Root Planing and Scaling: The Deep Cleaning Process
By on March 11, 2015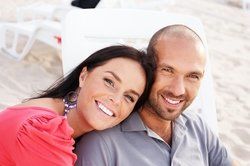 At Clarksville Smiles, we are pleased to offer advanced general dentistry treatments that improve dental health and wellness. Routine cleanings are important, this is true, but the process known as root planing ans scaling is a critical part of lasting dental wellness. It's also known as deep cleaning, and we'd like to go over the basics of this process right now.
What is root planing and scaling?
Root planing and scaling is a process in which deposits of plaque and tartar lodged down at the gumline are carefully removed. The process involves the careful scraping away of the plaque and tartar using small tools and precision care.
While many people tend to think of root planning and root scraping as the same activity, they are actually two separate actions that are performed:
Root Scaling - Root scaling refers to the removal of plaque and tartar from the teeth per se
Root Planing - Root planing refers to the removal of damaged tooth structure and the smoothing down of the root surface
Why should I have root planing and scaling performed?
Plaque and tartar at the gumline is hard to remove through flossing and brushing alone. If allowed to remain, it increases the risk of serious tooth decay at the root level as well as upping the possibility of gum disease. Root planing and scaling is both preventative and general in nature, allowing serious health problems to be avoided.
How Root Planing and Scaling Differs from Traditional Cleanings
Even though root planing and scaling is called deep cleaning, it differs significantly from a traditional dental cleaning. In a regular dental cleaning, an electric toothbrush is used to polish the teeth thoroughly. Some minor scraping may be involved, but minor is the key word. With root planing and scaling, the focus is entirely on the removal of plaque and tartar in difficult-to-reach places using scraping tools.
What to Expect During Root Planing and Scaling Treatment
Patients are given a local anesthetic during root planing and scaling in order to avoid major issues with discomfort. The dentist and a dental hygienist will work carefully during this process to thoroughly remove plaque and tartar deposits.
Roughly one-quarter to one-half of the mouth is treated during root planing and scaling, with additional sessions scheduled as needed. This is simply done in order to ensure a safe treatment within a reasonable amount of time.
What to Expect After Root Planing and Scaling Treatment
After root planing and scaling has been performed, patients can return to their normal activities. Tenderness around the gums is common, as is some mild tooth sensitivity. It's recommended that patients avoid hot or cold beverages as well as spicy foods in order to prevent issues with irritation of the teeth or gums. Patients should brush and floss as they usually would, though be gentle given the tenderness of the gumline.
Contact Clarksville Smiles
For more information about root planing and scaling and how it can improve your overall dental health and wellness, it's important that you contact our cosmetic and restorative dentistry center today. The team here at Clarksville Smiles looks forward to your visit and helping you achieve optimal dental wellness in the process.
Related to This
"

Dr. Ribeiro has been my dentist for many years, and he has always provided exceptional service. His staff is very professional and courteous. They always go out of their way to ensure I have a pleasant experience.

" Tina Reed