Am I a Candidate for a Mouth Guard?
By on January 07, 2015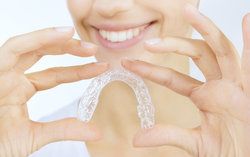 Dental damage can be caused by factors other than poor oral hygiene. Sports-related injuries can fracture, chip, or knock out a tooth, while chronic teeth grinding can gradually wear down the teeth. Fortunately, mouth guards offer a level of dental protection to those who play contact sports or suffer from teeth grinding. Dr. Richard Ribeiro offers a variety of general dentistry treatments to get your oral health back on track. To find out if mouth guards are right for you, schedule a consultation at our Clarksville practice.
Candidates for Mouth Guards
There are different types of mouth guards, each used for specific issues. In general, mouth guards are either store-bought or custom-made from impressions taken in the dentist's office. Store-bought mouth guards offer less protection. Custom-made mouth guards are generally used to protect the teeth from the effects of chronic teeth grinding, alleviate the symptoms of temporomandibular joint disorder, and prevent the teeth from being damaged while playing sports. You may need a custom mouth guard if you:
Play contact sports: Contact sports, like football, hockey, or boxing, put the teeth at constant risk of injury and damage. Anyone who plays a contact sport should wear a mouth guard.
Skateboard or rollerblade: People who skateboard or rollerblade can benefit from a mouth guard. A fall or misjudged landing can cause serious damage to the teeth. Wearing a mouth guard can provide the teeth much needed protection during these activities.
Teeth grinding: Teeth grinding generally occurs during sleep and, if left untreated, can lead to major dental damage. Constant teeth grinding can wear down the tooth's enamel, leaving the tooth vulnerable to decay, causing fractures, and, in severe cases, wearing the teeth down. Those who suffer from teeth grinding should wear mouth guards to protect their teeth from the harmful damage of teeth grinding.
TMD symptoms: TMD symptoms include jaw joint pain, difficulty chewing, clicking of the jaw, neck muscle pain, and dull headaches. For some, TMD symptoms are aggravated by sleeping with a clenched jaw or teeth grinding. Wearing a mouth guard during sleep can help reduce the strain on the jaw by preventing the jaws from clenching shut and reducing the risk of teeth grinding.
The Benefits of Wearing a Mouth Guard
Mouth guards are useful in protecting both the teeth and soft tissues of the mouth from injury. Some of the benefits of mouth guards include:
Protecting the teeth from injury during sports
Protecting the teeth from the damaging effects of teeth grinding
Alleviating TMD symptoms
Patients are less likely to experience tooth fractures or chips
Patients can maintain strong and healthy teeth that are less likely to be damaged by decay
See if You're a Candidate for a Mouth Guard
If you play sports, or suffer from teeth grinding or TMD, a mouth guard may be right for you. To see if you're a candidate for a mouth guard, we invite you to schedule a consultation with Dr. Ribiero.
Related to This
"

Dr. Ribeiro has been my dentist for many years, and he has always provided exceptional service. His staff is very professional and courteous. They always go out of their way to ensure I have a pleasant experience.

" Tina Reed