The Ins and Outs of Inlays and Onlays
By on April 04, 2014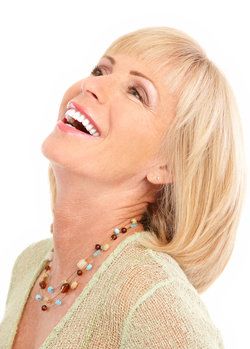 If you have a decayed tooth or significant dental damage, you need to get the problem treated as soon as possible. If you delay treatment, decay will spread, and minor structural damage could become a major headache. However, with all cosmetic dentistry, the goal is to save as much of your natural tooth structure as possible. That is why your Clarksville dentist offers inlays and onlays. Often called partial crowns, these restorations are placed on the top of your teeth, preventing widespread damage and restoring functionality to your molars.
How Inlays and Onlays Work
Inlays and onlays are designed to treat decay in your molars. Both restorations are custom-created from durable dental porcelain and attached to the top of your teeth, covering up decay and strengthening molars that have been weakened by cracks or other structural damage. Inlays rest between the cusps of your teeth. Onlays are designed for more widespread dental damage; they rest over the cusps of your molars and extend down the sides of your tooth.
Placing Inlays and Onlays
After determining that an inlay or onlay is the best treatment option for you, your cosmetic dentist will clean your tooth and remove all decay. Then the dentist will take impressions of your teeth, which will be sent to a dental laboratory. There, technicians will create a restoration that is customized to fit the precise placement of the cusps of your molars. Although both inlays and onlays are placed far enough back in your mouth that they are barely detectable, the technicians will still match the color of the porcelain to the natural color of your teeth. While you are waiting for your restoration, Dr. Ribeiro will provide you with a temporary inlay or onlay. After the permanent restoration is complete, you will return to the office, and Dr. Ribeiro will attach the inlay or onlay using permanent dental cement.
The Benefits of Inlays and Onlays
Inlays and onlays offer a number of significant advantages that could make them the optimal treatment for your damaged tooth. The benefits include:
A highly natural appearance: Because inlays and onlays are custom-fabricated for you, they are virtually indistinguishable from your natural teeth. When possible, many patients choose these restorations over metal fillings, since the porcelain can maintain the integrity of the smile.
Protection for your existing tooth structure: To place an inlay or onlay, Dr. Ribeiro does not need to reshape your tooth. While same day crowns are a great option for teeth with extensive structural damage or a very large area of decay, if your tooth only has limited damage, a more conservative inlay or onlay may be a better option.
Durability: With proper care, inlays and onlays can last up to 30 years.
Encouragement of ongoing dental health: Metal restorations expand and contract in response to changes in temperature. Over time, these fluctuations can weaken your tooth. Because porcelain does not change shape with temperature, this material can help to protect your teeth.
Damaged Tooth? Contact Us to Learn More
If you have a cavity or cracked tooth, contact Clarksville Smiles today to learn more about your treatment options. Whether you need an inlay, onlay, filling, or dental crown, Dr. Ribeiro will provide you with outstanding, compassionate care.
Related to This
"

Dr. Ribeiro has been my dentist for many years, and he has always provided exceptional service. His staff is very professional and courteous. They always go out of their way to ensure I have a pleasant experience.

" Tina Reed