Reasons for Replacing Metal Fillings with Composite Fillings
By on March 06, 2014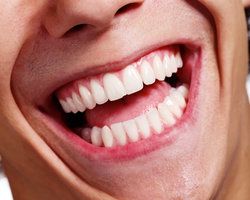 Fillings are a straight forward dental treatment that can effectively treat and restore a tooth that has been damaged by mild to moderate levels of tooth decay. While in the past, patients were treated with metal fillings fabricated from silver amalgam, today, patients have an option of being treated with more aesthetically pleasing composite fillings that are basically equal to their metal counterparts in strength and durability. However, these composite fillings are not just an option for patients who are in need of new dental fillings. Cosmetic dentist Richard C. Ribeiro offers his Clarksville patients tooth-colored fillings to replace outdated metal fillings. It may seem odd that a patient would choose to update dental work that has already been completed, but there are actually many reasons for replacing metal fillings with composite fillings.
Aesthetic Improvement
For most patients, the primary reason for replacing metal fillings with composite fillings is to improve the aesthetics of the smile. Metal fillings are gray in color and are noticeable to others, even when placed on the back teeth. In contrast, composite fillings can be made to match the shade of each patient's teeth so that, even on close inspection, it will not be obvious that any dental work has been done. Composite, tooth-colored fillings improve the health of the smile without compromising its appearance. For many patients, this is considered the largest benefit of composite fillings.
Restorative Reasons
No dental filling is meant to last a lifetime. If time has caused a filling to become loose, damaged, or worn down, it is important to the health of the tooth that the filling be replaced. If the filling already needs work anyway, most patients prefer to upgrade to a composite filling. Composite fillings bond with the natural tooth enamel to add substance to the structure of the tooth, and to improve its strength. Composite fillings also require the removal of less tooth enamel than metal fillings and expand and contrast naturally with the tooth so that the tooth is not exposed to extra force or pressure as it might be with a metal filling in place.
Safety Concerns
Metal fillings do contain small levels of mercury, which has led to the discussion of the safety of metal fillings. Although studies have shown that the level of mercury contained in a metal filling does not pose a safety risk to patients, some prefer to avoid this concern all together by switching to mercury-free composite fillings.
In general, the choice to replace metal fillings with composite fillings is one of personal preference. For patients who would like to benefit from a more modern dental restoration, Dr. Ribeiro is happy to help. We also offer sedation dentistry for those patients who are interested in enhancing the smile with composite fillings but who experience anxiety regarding dental appointments. Sedation dentistry can make procedures pain- and anxiety-free for even the most nervous dental patient.
Schedule an Appointment
There are many benefits to consider when it comes to replacing old metal fillings with composite fillings. If you have more questions about tooth-colored fillings or are interested in discussing this treatment in further detail, schedule an appointment with Dr. Richard C. Ribeiro at your earliest convenience. We look forward to meeting you!
Related to This
"

Dr. Ribeiro has been my dentist for many years, and he has always provided exceptional service. His staff is very professional and courteous. They always go out of their way to ensure I have a pleasant experience.

" Tina Reed